Sean Connery
He was the first to play the role of James Bond (Dr.No, 1962) and many consider him the best Bond interpreter (as do I).

Birthday: August 25th, 1930 (a leo!)

Birthplace: Edinburgh, Scotland

Interesting info: Won an Oscar for role in The Untouchables, chosen as People Magazine's "Sexiest Man Alive 1989".
---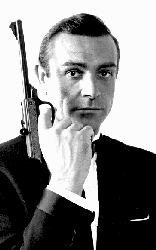 ---
---
Back to Actors Main Page