Mel's Biography -- In Short

Here's a small biography I've put together, in point form -- this is not paragraphs and paragraphs of info. I'll be shortly putting up links to sites which specialize in this area. I've just written in things here that I've found interesting about Mr. Gibson. I hope you learn something you didn't know by reading this! :)

"Name: Mel Columcille Gerard Gibson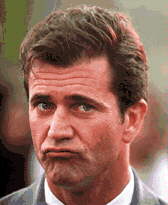 Profile: Actor, Director, Producer


Born: January 3rd, 1956


Brothers/Sisters?: Sixth of eleven children!


Star Sign: sun in Capricorn -- moon in Virgo


Birthplace: Peekskill, NY, USA


Moved: Mel's father Hutton Gibson won on Jeopardy! and moved the family from NY to New South Wales, Australia in 1968 to escape drafting.


Education: National Institute of Dramatic Arts, Sydney, Australia


Trivia: Mel began acting only because his sister submitted an application behind his back. The night before the audition, he was badly beaten in a fight and won the role because of it!


Relations: Wife: Robyn Moore (since 1980)


Children: (seven) Hannah, Edward, Christian, William, Louis, Milo and new son *Adam*(born in april '99. I *think* this is his name :) )


Wow!: in 1990, 91, and 96, he was chosen by People Magazine as one of the 50 Most Beautiful People in the World.


October '97: in Empire Magazine, #12 of the top 100 movie stars of *all time*

Awarded: In the year 1997, he was awarded the "A.O" -- Officer of the order of Autralia. This is Autralia's highest honour.